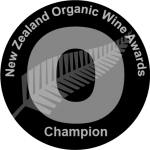 Wine: Quartz Reef Methode Traditionnelle Blanc de Blancs Vintage 2013
Awarded:  Champion Sparking 2018 & Gold 2018.
Region: Central Otago
Website: http://www.quartzreef.co.nz/
Notes: When it comes to NZ bubbles you'd be hard pushed to find anything that matches the regal qualities of Quartz Reef's vintage Blanc De Blancs. From the exquisite packaging, bottle through the the really important parts (taste/aroma), this wine is something special. Our advice would be ditch the mass imported champagne's from the local supermarket and have a search for a few bottles Rudi Bauer's masterpiece Blanc de Blancs.
Fruity citrus aroma's with nutty nuances, lead to a creamy palate of brioche, almond and citrus fruit. Exceptionally balanced, smooth and with multiple layers of complexity.
This wine drinks great now, but if you want a real treat, pick up a few bottles (store carefully) and open them on special occasions over the next 4-5 years (until 2024).