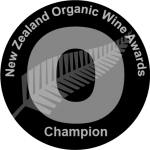 Wine: Giesen The Fuder Clayvin Chardonnay 2014
Awarded:  Champion Chardonnay & Gold 2018
Region: Marlborough
Website: https://giesen.co.nz
Recommended glassware: To maximise the enjoyment of this wine we recommend drinking from Riedel's Veritas Oaked Chardonnay glasses.
Notes: Bold, yet elegant. The Clayvin Chardonnay was our stand-out Chardonnay for 2018, rightly earning the vintage our Champion Chardonnay accolade. Fantastic to see a large scale producer such as Giesen invest in organic principles and commit to producing premium organic wine. Peaches, and citrus on the nose, with minerality coming through the medium bodied palate. Buttery and cashew notes courtesy of the generous malolactic fermentation. The current release is 2014, which has benefited the wine greatly and allowed for greater complexity to unfold.
Drinks perfectly now, or experiment until 2021.